Video lectures by Prabhuji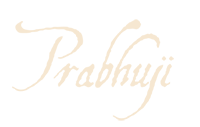 Prabhuji shares his vision and teachings with a small group of his close disciples, that live with him in the Ramakrishnananda Ashram. Some of those talks and lectures are filmed and posted on our YouTube channel. Prabhuji speaks about a wide range of spiritual topics and paths, shedding light on them with his unique vision and realization.
We see it as our collective duty to preserve the teachings of Prabhuji and distribute them in various channels and mediums.